Gin Kow
Let's Eat! Our delicious, natural, and made-to-order dishes are sure to tantalize your tastebuds. We got our start in Long Beach, California and are now proud to call Pacific Beach our new home. We provide this fabulous San Diego beach community with unique and authentic Thai food whether dining in or taking out. We can't wait to have you stop by for an amazing dinner or a quick lunch special.
See MENU & Order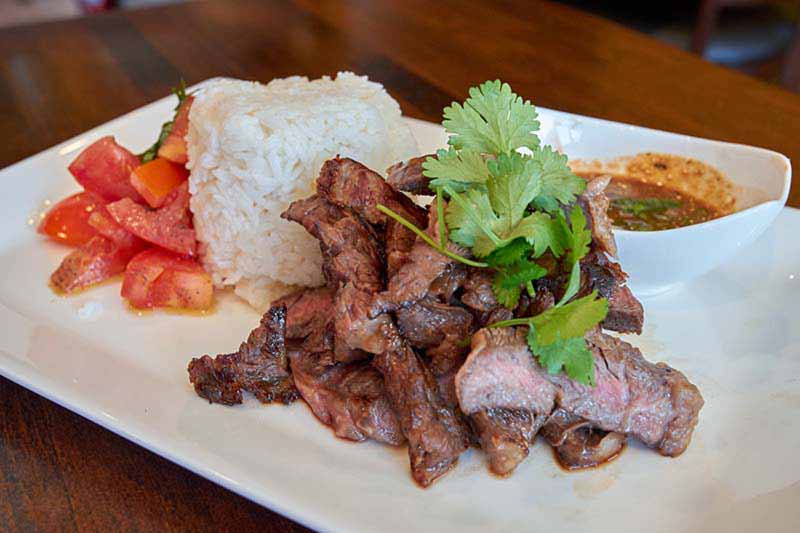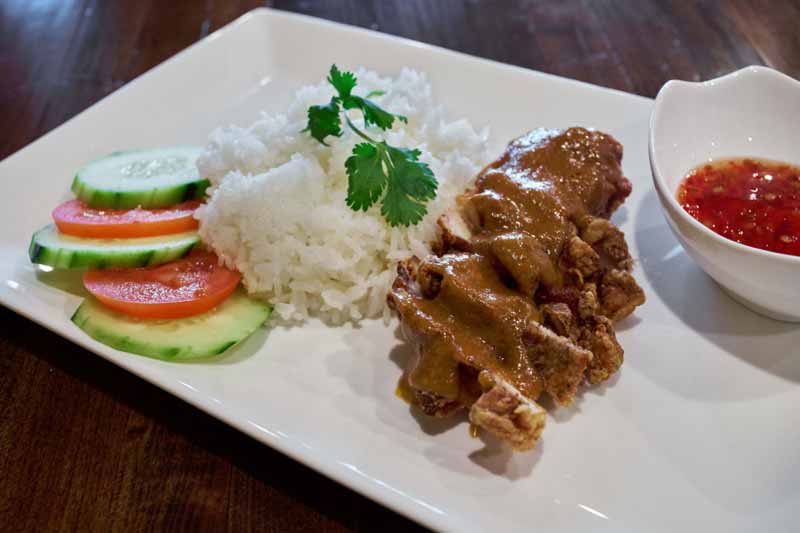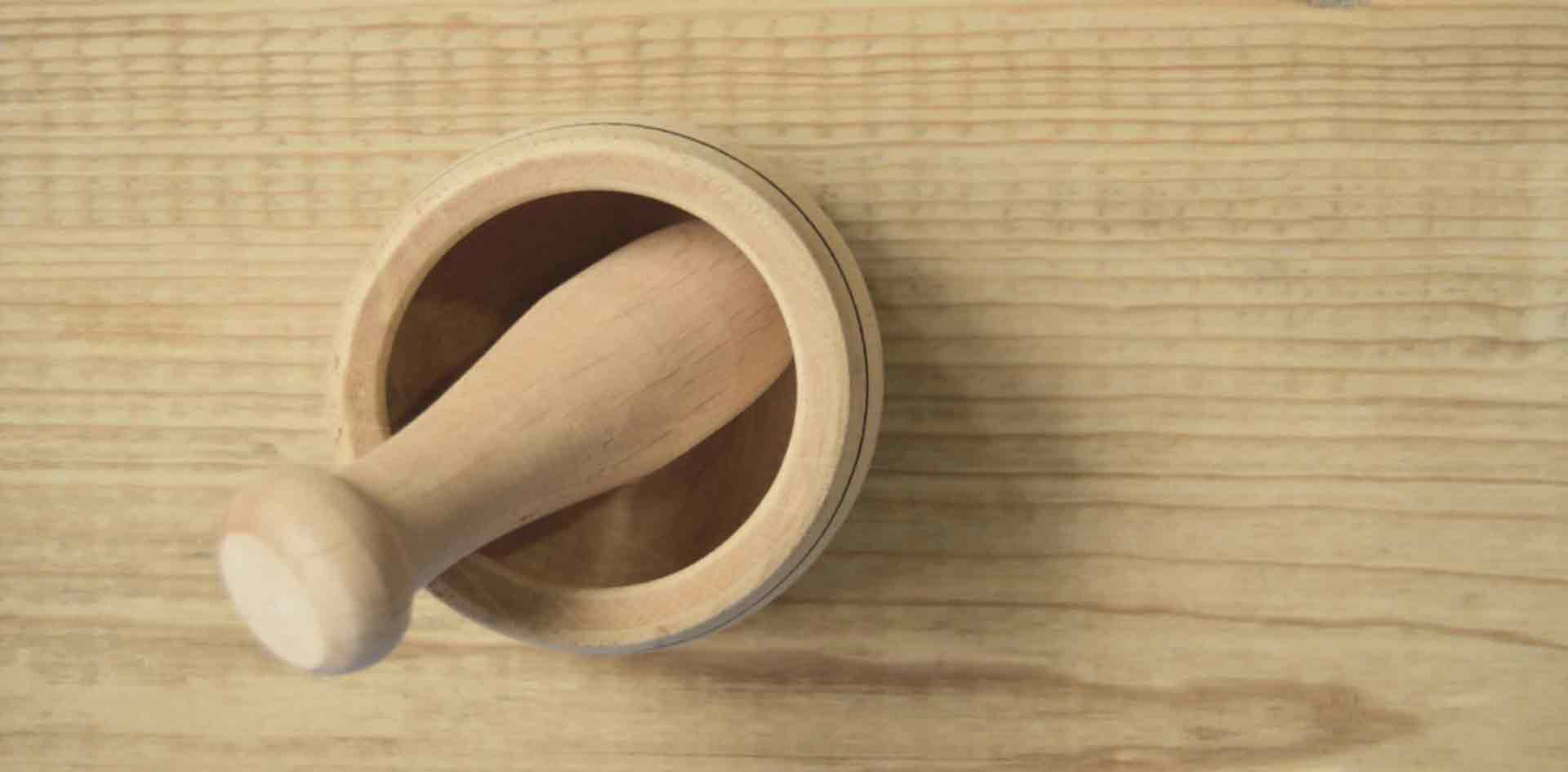 Appetizers, Soups, and Salads
Crisp Garlic Wings
Crisp, moist chicken wings with a fresh garlic seasoning and Thai dipping sauce
Tom Yum Koong
Brothy soup with shrimp, lemon grass, galangal, straw mushrooms, kaffir lime leaves, lime juice, and other delicious Thai flavors
Tom Kha Kai
Exotic, delicious soup made with chicken, coconut milk, galangal, straw mushrooms, lime juice, lemon grass, and kaffir lime leaves
Shrimp Salad
This mouth-watering Thai-style salad hails from Northeastern Thailand and is prepared using shrimp, mild chili paste, lemongrass, mint leaves, red onions, lime juice, and other seasonings. Available with Salmon instead of shrimp
Southern Thai Salad
We combine romaine and iceberg lettuce, cucumbers, tomatoes, onions, bean sprouts, fried tofu, crisp fried potatoes, and hard-boiled eggs to prepare this
Mixed Vegetables
We combine fresh asparagus with a variety of other fresh vegetables with a tasty sauce to prepare this vegetable medley and serve it with rice
Chef Specialties
Choo Chee Prawns
Giant prawns cooked over an open flame and then married to our rich red-curry sauce which we prepare using coconut milk
Kra Prao Salmon
A fresh salmon filet sautéed with our mouthwatering kra prao sauce, red bell peppers, and garlic
Thai Baby Back Ribs
We slow-cook our marinated ribs and then smother them in our delivious tamarind sauce with thinly-slived, crisp-fried onions
Crying Tiger Steak
Naturally tender, marinated USDA choice grade rib eye steak with a delivious lime-juice-based dipping sauce.
Drinks
Thai Iced Tea
Delicious, must-try blend of black tea, milk, and sugar ($3.00)
Thai Lime Iced Tea
Tangy spin on classic Thai iced tea with black tea, lime juice, and sugar ($3.00)
Hibiscus Drink
Flavorful and sweet herbal tea steeped with hibiscus flowers ($3.00)
Thai Iced Coffee
Fresh-brewed coffee with milk and cream ($3.00)
Hot Teas
Healthy A variety of freshly-brewed hot teas including jasmine, green, and ginger teas ($2.00)
Sodas
Bottled Coca-cola, Diet Coke, Orange Soda, Sprite, or rootbeer ($2.00)
Entrées
Fried Chicken Over Rice
Dark meat chicken deep-fried and topped with a delicious peanut sauce.
Kra Prao Chicken
Breast meat with Thai Basil, red bell peppers, Thai-style oyster, mushroom sauce, and garlic
Ginger Chicken
Chicken breast meat sautéed with a tasty sauce rich with slices of fresh ginger. Served with rice.
Noodle Dishes
Pad Thai
Our most popular dish, we prepare this special version of pad thai using shrimp, narrow rice noodles, fried tofu, sugar, tamarind, pickled radish, vinegar, bean sprouts, chives, and ground peanuts.
Spaghetti Kee Mao
A very popular fusion dish in Thailand, we prepare this using hcopped beef, sweet Thai basil, onions, bell peppers, Thai oyster, and mushroom sauce with Italian spaghetti noodles.
Tom Yum Ramen
Another fusion dish, this one features large shrimp, lemongrass, galangal, and other Thai flavors married with ramen noodles
Kao Soi Ramen
A complex type of curry popular in Northern Thailand. Prepared with chicken drumsticks and a curry made from chilies, chopped shallots, ginger, turmeric, toasted coriander seeds, cardamom, and ramen.
Pad See Ew
Flat, stir-fried noodles combined with chicken breast meat, eggs, and Chinese broccoli.
Chicken Pad Kee Mao
Made with chicken breast meat, sweet basil, bell peppers, bean sauce, and flat noodles.
Thai Curries
Beef Panang Curry
A popular dish in Thailand prepared using top sirloin, panang curry, sweet Thai basil, red bell peppers, and Kaffir lime leaves.
Yellow Chicken Curry
Our most popular curry, we prepare this delicious dish with potatoes and onions.
Lamb Masaman Curry
Hailing from Southern Thailand, where lamb is popular, this hearty curry has lamb, potatoes, peanuts, and onions.
Green Chicken Curry
Inherently a little spicy, this delicios curry featuring chicken breast meat and bamboo shoots is quite special. Also available with beef instead of chicken.
Soft-Shell Crab Curry
For soft-shell crab lovers, this is a must. We serve delicious and crisp soft-shell crabs prepared using our panang curry with coconut milk, fresh basil, and red bell peppers
Desserts
Mango Sticky Rice
Fresh-cut mango with sweet, sticky rice and cocounut milk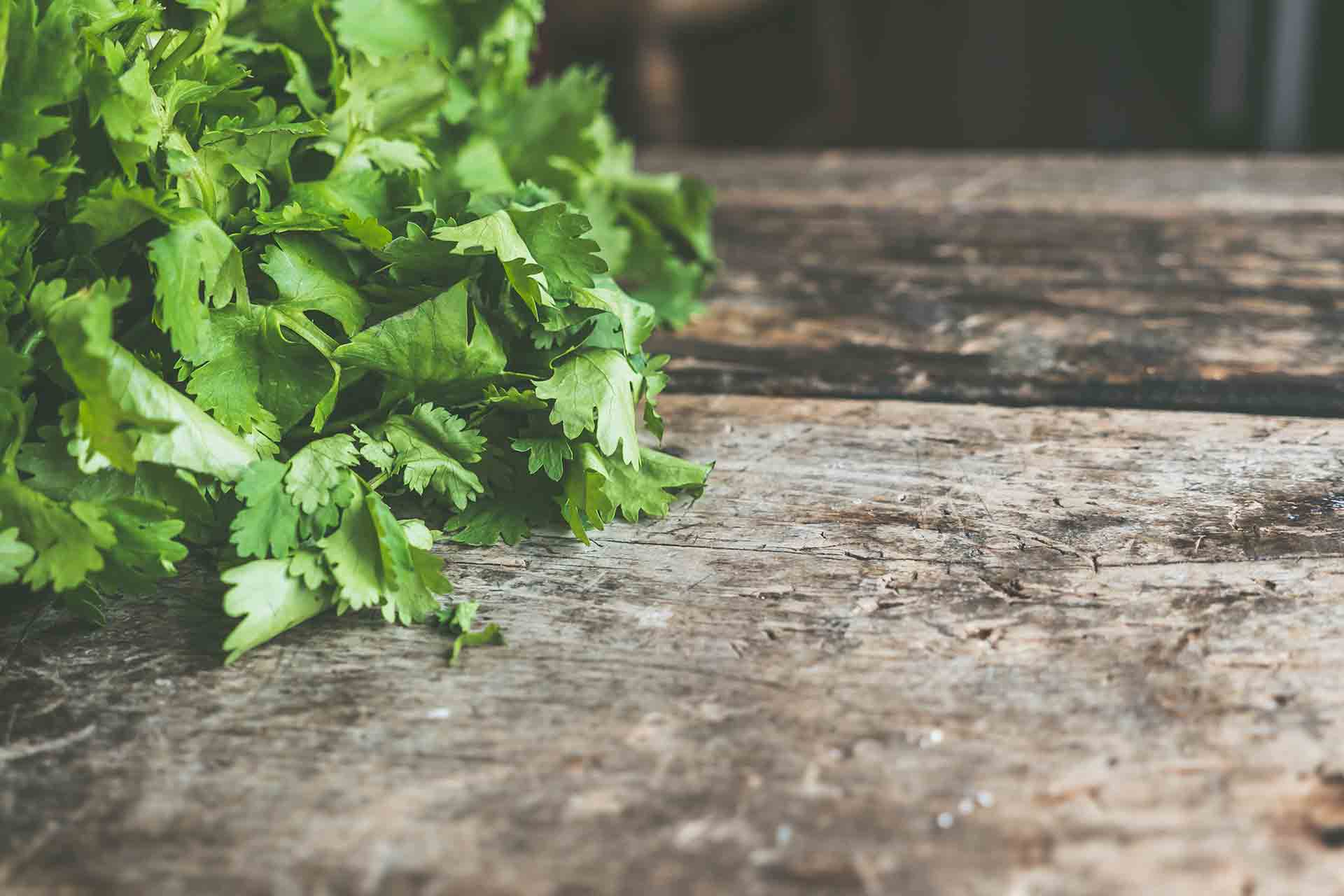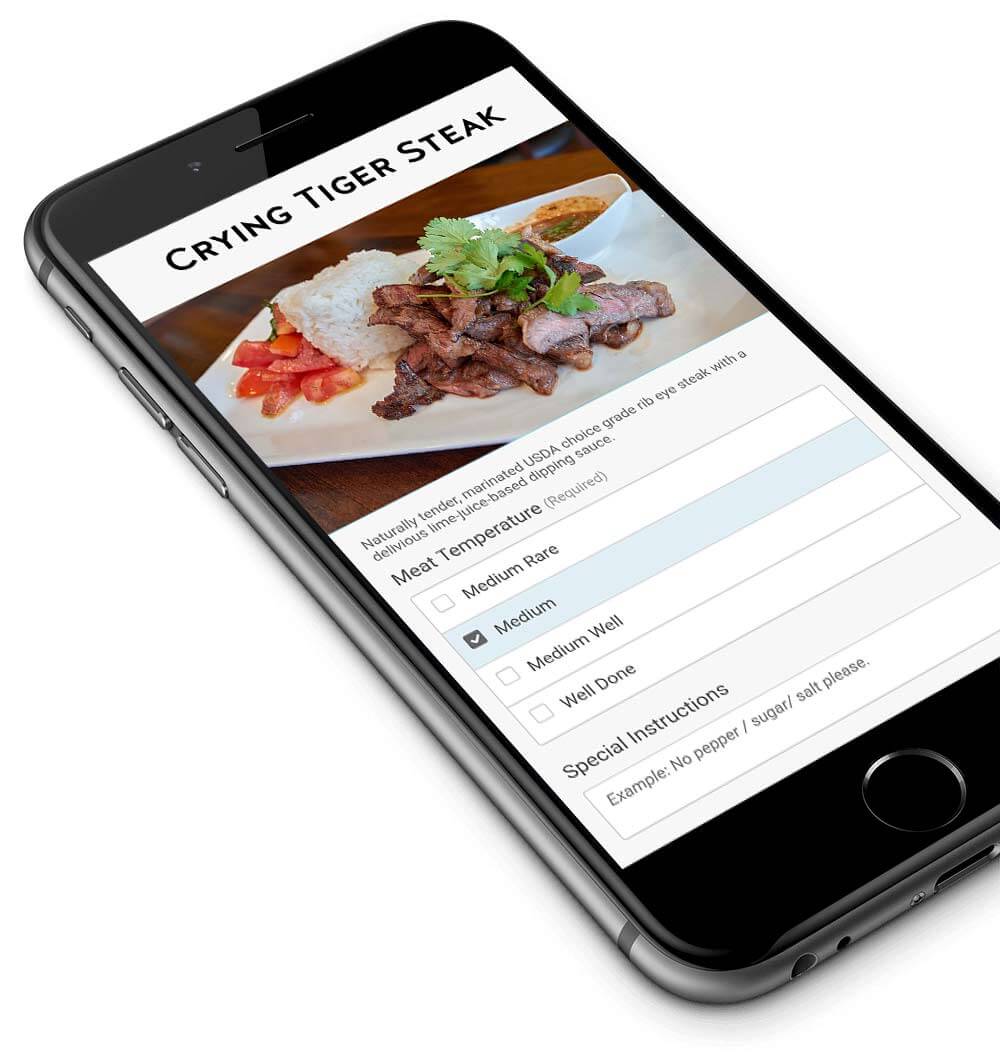 Order Online
Order now and pickup later
Easily view and order from our full menu online, and pick-up your order when it's ready. An order can also be placed through our Facebook page.
See MENU & Order